Dumpster Rental for Every Occasion
SANDHILLS ROLL OFF has several different dumpster sizes to accommodate your construction or debris clean up needs.  If you are not sure about the size you need our staff will be happy to assist you to pick a container that meets your needs.
We also provide portable toilet rental for your special event or business. Our portable restrooms are well equipped and clean. 
We Offer The Following Services: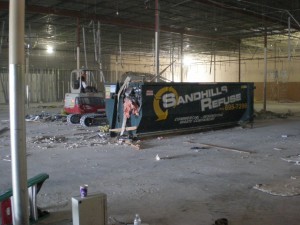 Demolition Service
Dumpster Rental
Site and building clean out
Equipment Rental
Portable Toilet Rental
Tree Removal – Sandhills Tree Experts
Bobcat and Grading Service
RESIDENTIAL FLAT RATE BOX PRICING – Please read all of the information below before ordering a dumpster.
*****  NEW PRICING EFFECTIVE JULY 1, 2020 FOR ALL CUSTOMERS *****
10 Yard Roll off – $275 per pull.  Includes .5 tons of debris.
12 Yard Roll off – $300 per pull.  Includes 1 ton of debris.
15 Yard Roll off – $350 per pull.  Includes 1.5 tons of debris.
20 Yard Roll off – $400 per pull.  Includes 2 tons of debris.
25 Yard Roll off – $450 per pull.  Includes 2.5 tons of debris.
30 Yard Roll off – $500 per pull.  Includes 3 tons of debris.
40 Yard Roll off – $550 per pull.  Includes 3 tons of debris.


Above flat rates apply for Aberdeen, Pinehurst, Whispering Pines and Southern Pines only. If you live outside this area call for rates.   We do our best to service all dumpsters within 24 hours of request. 

$70/ton if you go over the allowed tonnage
$100 overload charge if dumpster is loaded above top rail
$75 move charge if dumpster is relocated per customer request
$5 per day rental if dumpster sits past agreed upon time frame OR $25 per week after 2 weeks of inactivity.
Please contact Mike to discuss your specific needs!
We can provide multiple dumpsters at your site and service them daily!  We are #1 in service!
Special items: The following items are allowed but due to recycling, they need to be separated into special areas at the landfill.  Items need to be placed at back of dumpster by the gate for easy removal.  There is an additional $10 charge for each special item.
Mattresses
Bikes
Car batteries
Computer monitors and televisions
Tires
Appliances
Dumpster Rules
While dumpsters are in your possession, you cannot place or allow to be placed into the dumpster, the following:
Substances hazardous to health such as toxic or corrosive materials or liquids.
Any liquids of any kind whether contained or not, paint should  be poured out onto cardboard or blankets and dry before loading into dumpster.
Cans, drums or other containers of any kind unless they are empty and crushed; so incapable of carrying any liquid.
Medical waste or animal carcasses of any kind or quantity.
Any other material not listed above however considered unsuitable for containment e.g. malodorous waste; including but not limited to asbestos, paint, tires, gas bottle, fridges, freezers, TVs, fluorescent tubes, light bulbs, vehicle batteries, computer monitors,mattresses, liquids and solvents.  These items will be charged extra.
Don't fill any dumpster higher than the top of its sides and in such a manner as to prevent spillage of material from dumpster either while stationary or in transit.
Light fires in the dumpster.
Customer is responsible for any damages to the container other than normal wear and tear while it is in the customers possession.
**Attention** Do not load with extremely heavy materials such as dirt, rock, concrete or trees unless discussed when you order the dumpster.
Local landfill rate changes are beyond our control and usually increase yearly.
Sandhills Roll Off Dumpster Rental is always striving to be "GREEN", therefore some items can be recycled for free, donated or composted and will not have dump fees or reduced fees if possible.
All our vehicles have GPS tracking and mapping which help us get to you faster!  Same day service is our specialty ! Located at 1050 N. May Street in beautiful Southern Pines.
When you need the most efficient and affordable dumpster rental service, there's only one name to rely on: Sandhills Roll Off !